Here goes.
My second dirty secret spill, in what I hope will be a weekly special here on my website.
The above picture is from roughly four years ago, when I was asked to be a hair model. I like the picture, though, and I like to switch my bio images up every now and then, so I used it.
And…Downton Abbey and I broke up.
It wasn't messy and I don't have hard feelings, but, last week's episode, frankly, wasn't enjoyable to watch. It was, for me, just too much horrible drama.
Yet, part of the reason saying (a temporary?) good-bye to Downton wasn't terribly difficult was because…I'm already seeing someone else.
Yes, I've been watching—drum roll—Glee.
This might be a television show from 2009—and I may or may not have religiously made fun of it—but I'd never seen even a five-second clip of this show until this past week.
Because after last Monday's dirty secret spill two things happened: one, my daughter got sick and we spent quite a lot of time holed up together at home and, two, well, I'll get to that shortly.
So, back to my child getting sick.
She loves music. Loves. (I actually think that she could be in a glee club someday.)
I was browsing our Amazon Prime selections and noticed Glee as a "recently added tv show" and I knew instantly that she would adore the musical aspect of it.
Needless to say, she did break out her microphone to begin singing along after less than five minutes of the first episode, and it helped make our week amazing rather than difficult.
And, the second thing that happened last week.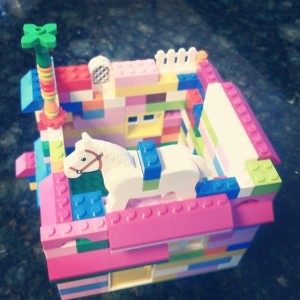 A
And this: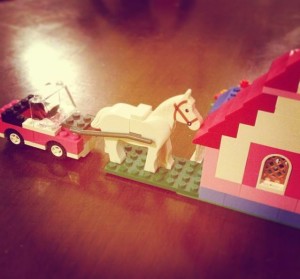 (Yes that's a one-horsepower car.)
And this, too:
(Yep, that's a full kitchen, a loft—oh and my husband later made me a lava lamp.)
Oh, and…this: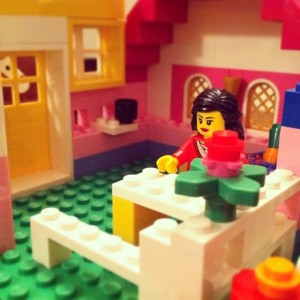 Yes, my name is Jennifer and I'm obsessed (again, at age thirtysomething) with Legos.
Also last week, I officially diagnosed myself with ADEVVC.
Adult Delayed Eddie Vedder Voice Crush.
I might have owned Pearl Jam's first album Ten on a cassette tape (Google it if you were too young to have ever used Myspace—which, much to my joy, is often referenced in these early Glee episodes), but I was never a Pearl Jam fan. I lost interest after Vs. (Although I did buy that on—ahem—CD.)
Anyways, I'm still constantly listening to the Into the Wild soundtrack (hence my ADEVVC).
I now have 51 followers on Instagram rather than 8. (Not to brag or anything.)
I keep tissues in my bra because I'm usually wearing yoga leggings with no pockets. (Hey, at least I don't keep pencils, money and a full-on purse selection in there like my great-grandma did—yet.)
I feel bad a$$ when I drive my stick-shift Jetta.
I haven't listened to my voice mails in nearly two weeks.
I'm still not used to my iPhone's touch screen. (Which is probably why I didn't text you back yet.)
I'm down with Madonna's general need for attention, but not with her recent usage of the N-word.
I was rooting for Gwen Stefani to have a girl.
I won't let my husband take our Christmas tree down.
I was thrilled to finally share some of my storytelling with the world via this article about envy, but I'm not really an envious person—which is why I wrote it.
One last dirty secret spill for this Monday morning:
That caged girl piece I wrote?
I'm really proud of it—it's my personal best so far—but it wasn't hard for me to share.
It didn't feel courageous or brave or any of the other beautiful responses that readers have messaged me (but thank you). And here's why:
Some things shouldn't have to be secrets in the first place.
Over and out—for now.
Photo credit: Author's own; Neal Jennings/Flickr.