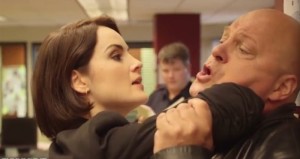 But I did—and I was pleasantly surprised.
Sure, there was destined to be drama when nearly a handful of lead characters have been killed off in the previous season, yet it managed to have the wit and gorgeous cinematography that turned many viewers on in the first place (even if we were turned off by a tad too much tragedy).
Still, have you ever wondered…is there life after Downton? Well, for one of the abbey's most infamous personalities, there just might be.
She's not Lady Mary—most of the time.
Funny or Die's latest star is none other than Downton Abbey's Michelle Dockery, aka Lady Mary.
In this fake trailer for a made-up TNT drama "Tough Justice," Dockery stars as a no-nonsense cop alongside The Shield's Michael Chiklis.
Watch Lady Mary's "Tough" performance here:
Photo: Screenshot.