It's been awhile since I've written a secret spill.
Okay, I just saw the date for the last edition of dirty secret spill (when I went to add in that link) and it's been a loooong while.
I guess you could say that I've been feeling a little bit like a Scorpionic emotional horder. But! It's time.
So here goes.
I've finished season four of Glee and I'm hesitant to start season five.
Partly because—and I think this is obvious to anyone familiar with the show—in only two short episodes we lose Finn Hudson (Cory Monteith) and it makes my stomach churn and my heart shed tears before I've even seen the episode titled simply The Quarterback.
However, it's also because I'm not sure that I want to pay 99 cents an episode on Amazon Prime.
Because of this, I'm looking for a new (kind of crappy, but not crappy enough to not want to watch it) television show for my rare-spare-moments viewing pleasure.
Nothing, so far, has stuck. (Please feel free to leave suggestions in the comments section below. Thank you in advance.)
Also happening in my life lately is my pregnancy. (For anyone who visits my site regularly, this isn't a shock either.)
So, I've been looking at baby names on God awful websites—the kind of internet searching that happens when I should be falling asleep but am, instead, continuing to scroll on my iPhone. (Please don't leave name suggestions in the below comments section. Thank you in advance.)
And the names that I've come across are, frankly, appalling at times. I've sincerely questioned whether or not these site owners are spewing stuff out there in cyberspace only to laugh if so-and-so name actually does become fifth most popular.
I mean, Ajax?
Biff?
Maybe I should apologize (in advance) if a reader's child is, indeed, named Biff or Ajax, but I feel it more appropriate to apologize to the child.
Moving on.
Right now you probably won't guess what I'm doing.
I'm baking my first un-birthday cake.
Apparently, I made the wrong flavor for (ahem) a "special someone's" birthday. I'm currently rectifying the situation by making a new cake. (Chocolate cake with chocolate frosting and berries in the middle—photographic proof to follow that I am officially once again the most wonderful wife friend ever.)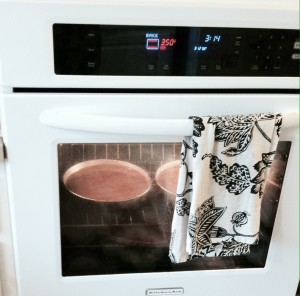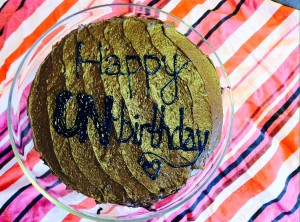 Also, I used the time on the first picture to remind me of when I put the cake in the oven.
And, lastly, I'd like to share that I wrote this fairly early on Monday, but in order to not ruin this (un)birthday surprise, I didn't publish it immediately.
How's that for thoughtful.
Now, if you'll excuse me, I have to finish getting ready for our first ever unbirthday party…
Photo credits: Helga Weber/Flickr; Author's own.