I'm aware that this is Tuesday, so let's first get that out of the way.
Also, I'm aware that inappropriate is spelled inappropriately in the picture above, but I love this image regardless.
Okay, here goes.
I'm still watching Glee. Actually, now my daughter and I are having regular jam sessions with our recently purchased CD of season one.
I finally took my Christmas tree down…this weekend…and I miss it.
I haven't been to the yoga studio for a live class in my longest away-from-studio stretch ever, nearly a month (due to weather and illness and general child care related to both of these things) and I'm both dying to get back and also, unexpectedly, enjoying my time "off."
I don't actually take time "off" from my yoga practice. I believe all yoga practitioners should have some form of practice at home.
I placed my purple stuffed kitten with the filthy mouth from my kisses on my new yoga room table as part of my collection of special, inspiring things.
The reason that I didn't say my "childhood purple stuffed kitten" is because I got her in high school.
I've already pre-ordered Frozen on dvd (and I'm as excited as my toddler about it).
Not only am I not sick of winter or snow or below-freezing Midwestern temperatures, I'm glad that darn groundhog saw his shadow.
I'm still a little sorrowful that I never got to see the groundhog ritual when I lived in PA. (To be fair, I lived nowhere near Punxsutawney.)
Can you believe that the groundhog has an organizational website page—and that I seriously took the time to visit it?
I unfollowed a few people on Instagram this week because I got so tired of seeing their yoga photos.
I feel like a superstar when I wear my new animal-print Teeki pants. I had the most invigorating practice the day that I got them in the mail and I'm positive that it's not a coincidence.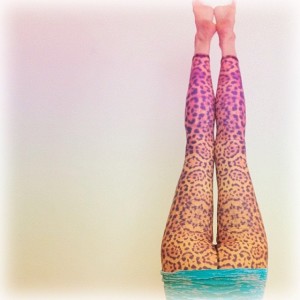 Yep, that's my butt. My husband thinks I should be embarrassed to put it out into cyberspace. But I'm not. And sadly that doesn't embarrass me much either. (Oh, and I Instagrammed that—yes, I get the irony.)
My daughter and I have matching unicorn Teeki pants, and I'm not sure which one of us gets a bigger kick out of dressing alike when we wear them. Wait, I'm pretty sure it's me.
I might be an openly sensitive person, but when something shakes me deeply, I instantly want to retract, pull back and coldly detach. I wish I was the kind of person who, when stressed, resorted to needing tender, cozy hugs and soft words, but I'm not sure I'll ever be this person.
Over and out!