My amazing web guru (the one who is in charge of this site) sends me awesome music links, knowing I love new finds but that I'm not always that great at, well, finding them lately. He sent me this and I've been listening to it while writing all week long:
First Listen: Nothing, 'Guilty Of Everything.' Click here to experience on NPR's First Listen.
Because I was a total 80's child who grew up and lived a gorgeously rebellious teenage youth in the 90's—in short, I loved raging guitars and Shoegazing: My Bloody Valentine, Ride and Slowdive to name a few.
And since I was a kid of this subgenre, I experimented with a lot of off-trend looks.
I've tried not shaving my armpits (that didn't last long), flannel (duh), any pants with bellbottoms, green mascara, braless tanktop days and a myriad of other things that will shame my husband for admitting in print (we dated as teenagers).
But, oh God, does this musical distortion and the sound of layered guitars set my soul on fire like I was still 15 years old.
Sigh.
Another thing that's been setting me on fire this week is my daughter's latest obsession with coloring on her easel.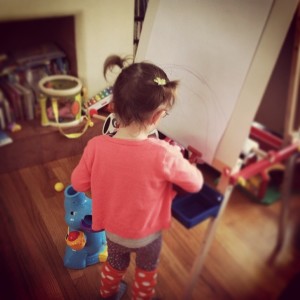 She woke up this morning and before she wanted even a drink, she sought out her crayons—and I was one proud and happy mama.
And the same auntie that got her this awesome easel sent me this via text last week:
Since it's absolutely, without a doubt, The Year of the Unicorn, this also lit me up from the inside out.
My mantra for the last few months has been I believe in magic and, let me tell you, it's been a magical few months.
And I'm randomly throwing this in my blog because I love you and believe that all humans deserve good music:
http://www.youtube.com/watch?v=zhxXn60Z0yk
I'm also tossing it out there that I get super excited about some of my articles and that I can't wait to see reader responses after they've been published.
My latest piece that brought on this type of sensation was one that went up last night while I was asleep. The Healing Power of Tears: 5 Poignant Quotes to Move Us Beyond Regret was shared on elephant journal, where I write as an extremely joyful featured columnist.  Anyways, it already had two stellar responses by the time that I woke up at 5:30 this morning.
Here they are, copied and pasted:
From Facebook: "This is the best article I have ever read on EJ. Thank you!"
(Um, wow, thanks to you!)
And from a comment beneath the actual piece: "this is really fucking good. and i'm highly critical. i'm going to read more of your stuff now."
(Although that one made me a little bit nervous, heh heh.)
And here—just because—is another random Shoegaze moment for you:
Aaaaand, another major goosebump share (this one is a complete classic):
You know, what, I'm ending here today—I cannot top this last video.
Enjoy! And happy Monday! Erm, Wednesday!