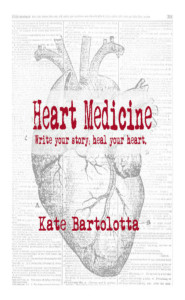 I thought that I knew what soul food was.
But then I read Kate Bartolotta's new book Heart Medicine. This book is pure soul food.
"Write your story; Heal your heart."
This subtitle speaks volumes as to what the reader should expect: a palatable yet artfully detailed guide on writing our own stories and healing the deepest parts of ourselves—the spaces that we often deem impossible to re-write.
"When we take ownership of the stories inside us, they become more than just personal myths. They become a tool we can use to grow, heal and transform our lives.
They become our Heart Medicine."
And for those of us who write, this book offers a considerable amount of practical advice.
Whether we choose to write in journals or publish our work for all to see, writing is a creative passion, of course, but it's also a skill that can, and should, be honed and cultivated. Bartolotta tells us not only what exactly to place into our toolboxes, but she also offers clear directions for how to care for this new set of instruments.
However, don't be fooled. This book is for anyone and everyone.
Heart Medicine gently commands us to look closely at how our lives are constructed of all the stories that we tell, both to others and to ourselves, as well as the stories that go untold.
If you're looking to create a life made up of the best stories that you and your heart have to offer—and aren't we all?—then this book is an absolute must-have.
 Heart Medicine is available on Amazon.com. Visit here to purchase your copy.