My labor of love is finally out in the world!
The Best Day of Your Life: A guide to transforming the ordinary into the extraordinary, is now available for purchase in paperback on Amazon and in Kindle form as well!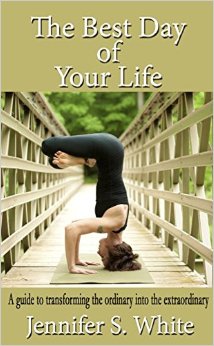 A brief description:
"Every day that we inhale a new breath and then let it back out is an opportunity to have the best day of our lives. That said, it's not always this easy.
Life is challenging and complicated, yet we seek out positive expressions of ourselves and the world, like joy and serenity. We're essentially healthy people trying to get through life with as much pleasure as possible. We seek to better ourselves and the world around us because, at our core, we want to live our best lives as our best selves.
But how do we do this? How do we have our best day when we're feeling frustrated, heartbroken or a plethora of other emotions that swirl around a human experience?
This book offers a daily practice guide that doesn't attempt to give you the answers to these questions, but, rather, the tools necessary to engage them on your own journey.
And some of these practices might surprise you. If you've picked up this book expecting a typical put-on-a-smiley-face-and-shove-down-uncomfortable-feelings manual, you won't find that.
What will you find within these pages? Open it up and let's begin…"
I'll also be updating this post as new links go up. (So keep checking back.)
After you've given your copy a read, please review it on Amazon! Also, any inquiries about professional reviews can be sent directly via message on my Facebook page.
I want to send a sincere thank you out to every one of you who have encouraged and supported me.
Thank you, thank you, thank you, from the bottom of my happy, happy heart.