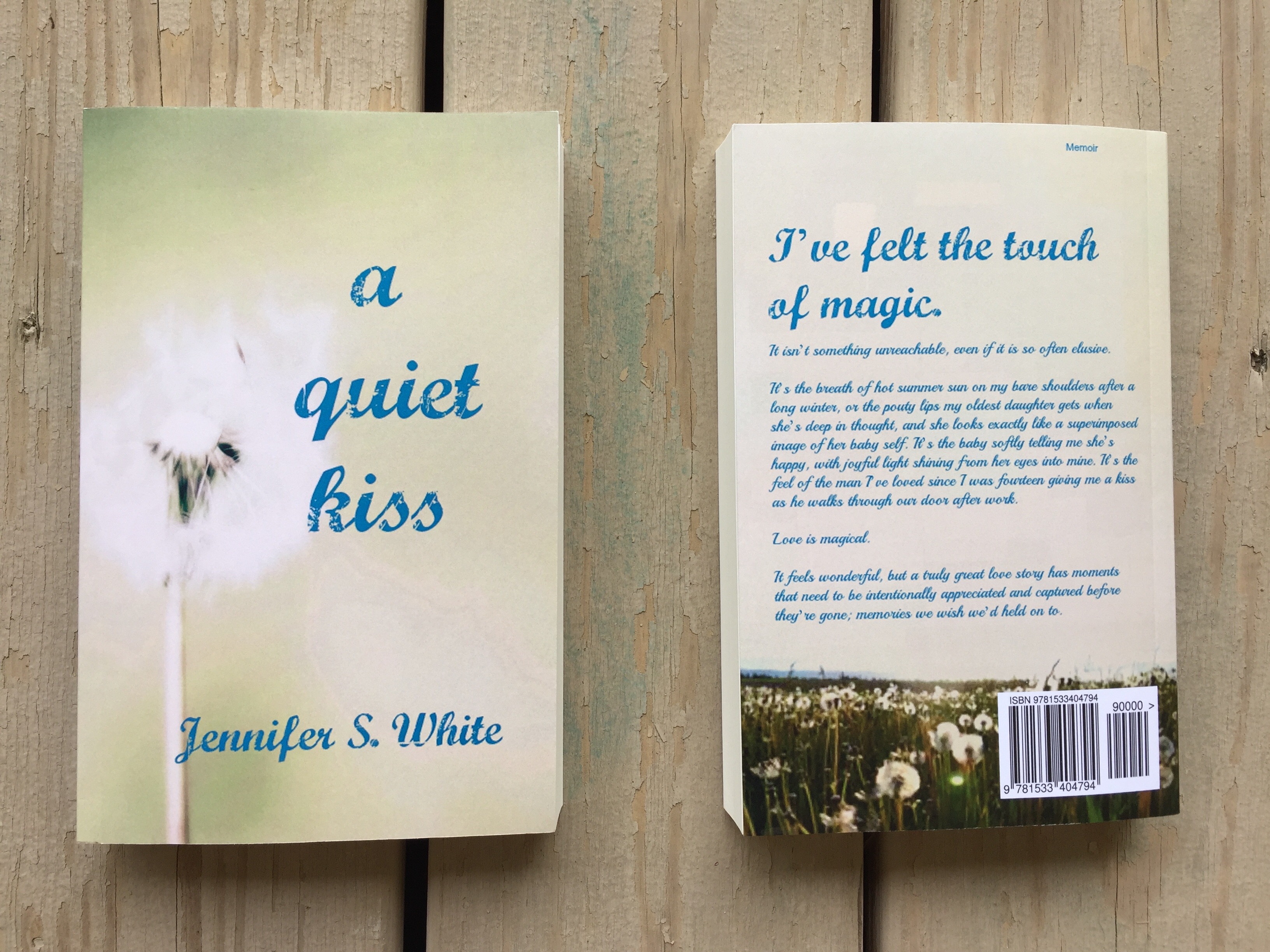 Surprise, surprise! *Drum roll* I'm thrilled to announce the release of my memoir A Quiet Kiss.
Now available on Amazon in both paperback and Kindle, and Barnes and Noble! A Quiet Kiss can be purchased in paperback on the Barnes and Noble website! My local store will be carrying it, and I would greatly appreciate if my favorite readers would ask their stores to carry it as well! (And I can't thank you all enough for your support, love and encouragement with my writing.)
This book has been something I've been quietly working hard on, and I'm beyond ecstatic to formally announce that it launched Tuesday, June 14!
From the back cover:
"I've felt the touch of magic.
It isn't something unreachable, even if it is so often elusive.
It's the breath of hot summer sun on my bare shoulders after a long winter, or the pouty lips my oldest daughter gets when she's deep in thought, and she looks exactly like a superimposed image of her baby self. It's the baby softly telling me she's happy, with joyful light shining from her eyes into mine. It's the feel of the man I've loved since I was fourteen giving me a kiss as he walks through our door after work.
Love is magical.
It feels wonderful, but a truly great love story has moments that need to be intentionally appreciated and captured before they're gone; memories we wish we'd held on to."
A bit more about this book:
A Quiet Kiss is a modern love story focused on the evolution of love, self-love, as well as contemporary parenting, motherhood and feminism.
A Quiet Kiss is narrated by a thirtysomething mother of two young children who has been with the same man for over two decades. Readers will laugh and empathize with her motherhood struggles, as well as with the difficulties of remaining passionate and in love when the relationship takes a back seat to diaper changes, school schedules and fatigue.
This insightful memoir is a reminder that the greatest love stories are ones that we intentionally create and cherish; stories that we are both more in control of nurturing than we give credit to on an everyday, living life basis, as well as ones where we lack the ability to predict and manipulate every turn, and so we must learn to bend with grace.
A Quiet Kiss is one woman's gentle discovery of her own strength and self-love, while also encapsulating every contemporary woman navigating love, life and relationships.
Connect on social media for more news and on-going updates! Thanks so, so much, friends, for all of your support.
(Perfect for summer reading!)