---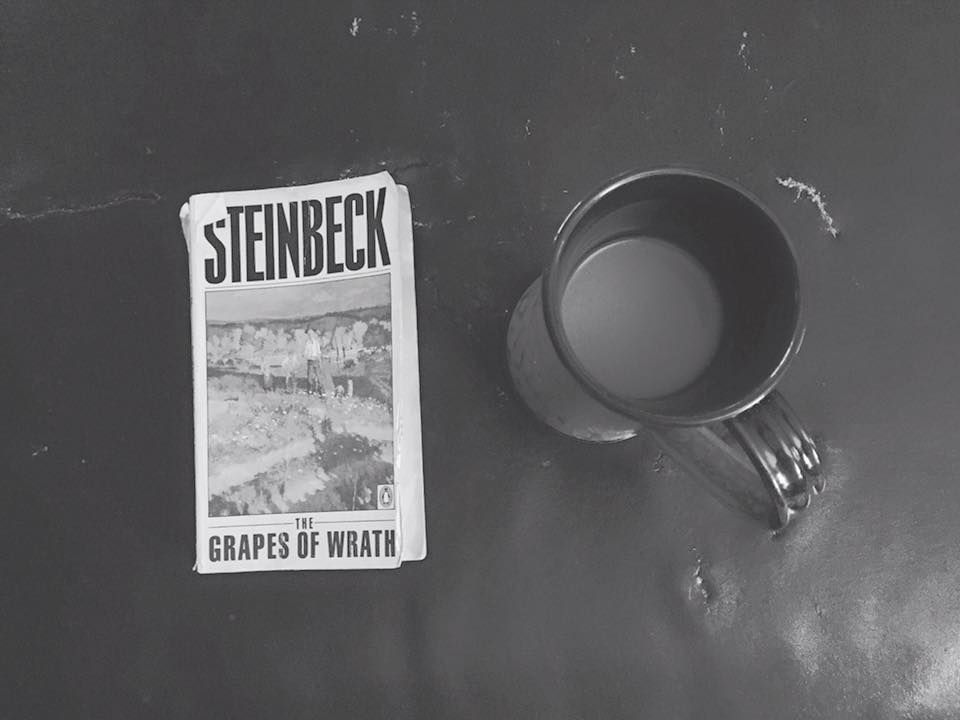 The makings of a mommy timeout:
It's difficult for me to embrace time to myself unless it's productive.
There are things that I do that I don't feel as guilty for doing by myself—exercise, a doctor's appointment, or a much-needed massage for example—and these things I rarely do alone, too.
My workouts are often on my yoga mat, next to two tiny unrolled mats  beside mine, where little girls hop on and adorably attempt to do what I'm doing, but, often, they instead march around the space, as I exercise, with books in their hands and a show playing in the background.
Doctors' appointments are also places I typically take them along. (For a long time I was known—by name—as my daughter's mom, and she'd never even been a patient there.)
Massages are hugely beneficial, yet infrequent.
But sitting on the couch, reading a seriously worn, old novel with a mug of coffee and my heating pad nearby? Nah. Never—until I got sick.
Getting sick does something funny to you. I'm not able to just mentally fight through some extreme situations—a few illnesses I've had—like I did when I was a runner, or when I gave birth. There are some instances when we need help, whether we want it or not; when we need to admit that we can't do it alone, even if we aren't regularly surrounded by a village.
I have, like many people I know, a long-distance village. I've moved around, and I've made dear friends, and we keep in touch, but they aren't here sharing my space and my physical life. My family isn't close by either, and even the friends I do have here don't have kids, or have older kids, or have kids the same age whose schedules don't match up.
So intense illness is a reminder, for me at least, of my vulnerability. More than my physical vulnerability, it's a reminder that I cannot be Superwoman, or Supermom, or whoever I think I am as I typically go about my usually slotted week.
I feel unworthy simply sitting on the sofa and reading while my husband changes all the diapers, and does all the snack getting, and the question answering—as I hear his patience thin the way I feel my own fining through a typical day alone and "in charge" of the kids while he's at work.
And fathers are daddies and not babysitters, or helpers, but, regardless, it's still me home during the day while he's off being a scientist at the nearby hospital—it's me tightly holding my lips together when I cannot reword an answer any other easy way, and I feel I'm about to burst. It's me at daily lunchtime, and it's me waving "hi" as the bus pulls up and the rest of our afternoon lies ahead, together.
So I sit on the couch, and I read my book, and I pretend that I can't hear this beautiful chaos around me—I pretend I am walled and closed, although I am always transparent—accessible—as "Mom."
My neck hasn't been sore for two days since I've been resting with mastitis. My body hasn't hurt, although I usually do simple workouts regularly to relieve cranky muscles. I am not fully relaxed either—since I do care that my husband is thinning in the way that I normally am, and I'm sympathetic—because I know that it's his weekend to relax from the week, too.
But I take my timeout, and I feel rejuvenated—I am refreshed in a way that is incredibly complicated, and more honest, than the hour I did this morning of HIIT cardio and weight training and yoga. I'm breathing more deeply than even in my most wonderful yoga practices, because I needed a timeout—and I took one.