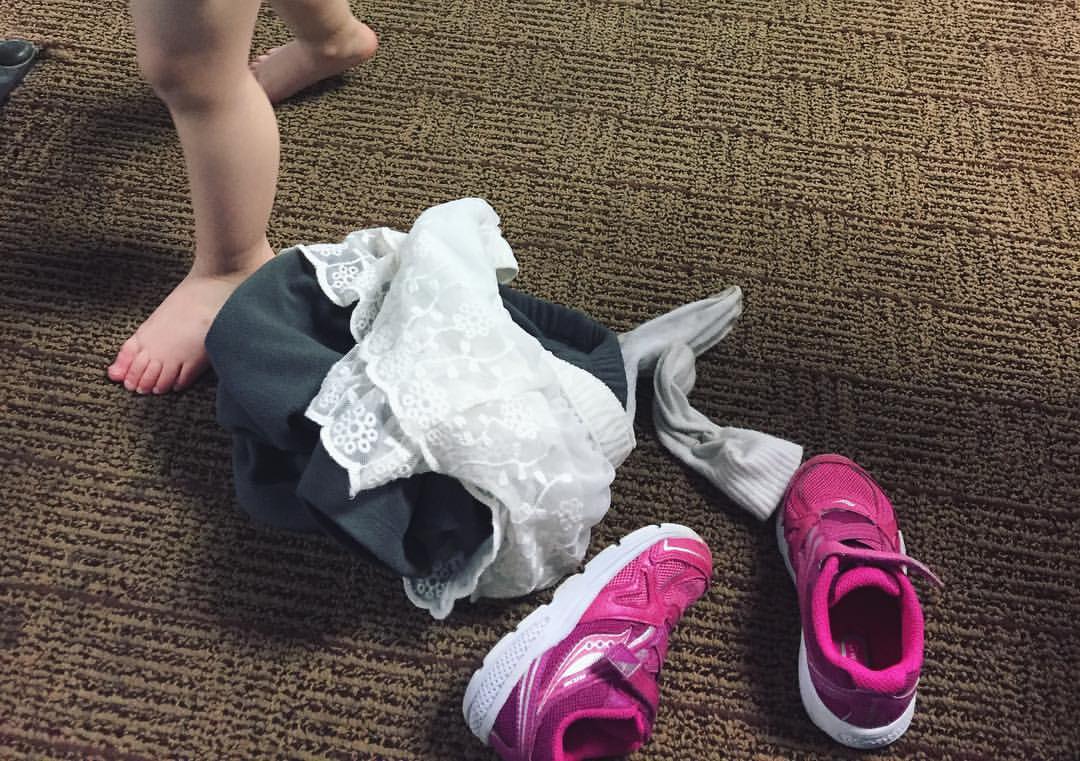 Recently my toddler turned 2 years old. Like many parents, I feel I've learned more from watching my kids grow up than they've learned from me.
Here are 35 pieces of wisdom I learned from my toddler, all in one day:
1. Crying really does work better than screaming. But scream first anyways.
2. Fruit snacks are the best choice at any time of day.
3. When you're overheated, just take off your clothes. (It doesn't matter where you are. See above picture, not taken at home.)
4. Seat belts are uncomfortably tight, but we have to wear them anyways. Regardless, make sure you yell in the car about your seat belt being too tight.
5. Car rides are too bumpy. Make sure Mom knows.
6. It's impossible to walk by a grate in a parking lot and not jump on it.
7. Always choose the one with sequins.
8. Forgiving and making up after a fight doesn't have to be hard. Just kiss and snuggle and say, "I'm sorry."
9. It's important to communicate our needs. When we can't, the next best thing is to toss yourself on the floor and cry.
10. Mommy is a fruit snacks dispenser. Or at least she should be.
11. A big sister is the best. Except for when I want to play with every single one of her favorite toys and she actually wants one for herself.
12. I don't have to kiss or hug anyone I don't want to.
13. Candy from strangers is only OK on Halloween, even though that's still kind of confusing.
14. Adding 750 different grains to a bread makes it both healthier and more disgusting.
15. Tissues are actually for fingertips.
16. The best place to sneeze is on Mom's face.
17. As for throwing up: always choose the softest place to puke. Examples in order of preference, from least acceptable to most: bowl, carpet, Mom's hands.
18. Experiment with which feet you like your shoes on. Stay strong in your choice no matter what.
19. Take the road less traveled. Like, the one with the most mud, or the wet grass even if there's a sidewalk nearby.
20. Tutus go with everything. Everything. Everything.
21. Dad's the sucker. Go to him first, and then again after Mom says "no."
22. Don't let a single day go by without the people you love most knowing it. Or without screaming at them for no real reason either.
23. Encourage Mom to shop at stores that give you stickers.
24. Every day is a new start—and a new opportunity to ask for fruit snacks for breakfast.
25. The secret to making sure Mom stays off her phone and plays with you is to consistently cry loudly whenever she makes a phone call.
26. When your parents kiss, they like it if you stand right between their legs.
27. Restaurants are so much fun. I don't know why Mom and Dad don't take me out to eat more.
28. For some reason, Mom always needs company when she goes to the bathroom.
29. The best things in life are free—hugs, spending time with my family, going outside. So I don't know why Daddy has to leave and go to work every day.
30. Fix everything with tape. Lots of it. Like, lots. (And when Mom says the tape is broken, ask her for tape.)
31. Trying new things is fun. Unless the "new thing" is a vegetable.
32. Don't ask Mom where hot dogs really come from.
33. Making people laugh is awesome. If someone does think you're funny, do whatever made them laugh 10 more times.
34. Poop goes in the potty. And in the bathtub.
35. My family is the best. I love them so much. They love me so much. They make every day worth getting up for. At 6 in the morning, even on weekends.